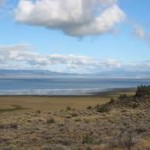 During the 1870s, the federal government adopted policies encouraging the killing of the North American buffalo in order to deplete the food source of the Native Americans, a tactic used to expand the government's authority across the West.
Today, in a continued effort to promote and secure its relevance, the federal government, in breach of the Migratory Bird Treaty Act, has authorized the U.S. Department of Fish and Wildlife to spend $3.5 million massacring 3600 barred owls in Oregon under the auspices of spotted owl protection – an animal listed under the Endangered Species Act.
The news of this federal action and the government's "above the law" response to control natural fluctuations does not come as a surprise to many of us Oregonians who everyday perform the balancing act of providing for our families, sustaining our businesses and ranches, and acting as stewards for sustainable future use of our land. Over the years and centuries, federal responses to local issues have resulted in wasteful spending, irresponsible action, and the decimation of people and animals alike. Yet a concentrated majority in this state has decided that Washington D.C. is best suited to handling our business, ranching and local environmental affairs.
Oregon's counties and communities face a new federal intervention: an effort to protect the sage grouse. An environmental impact statement is currently being pushed through federal court to determine whether the Bureau of Land Management ("BLM") should cordon off hundreds of thousands of acres of land usually reserved for ranching activities.
There is clear consensus among the experts and the BLM that sage grouse numbers are not a problem in Oregon. The disappearance of the bird has predominantly occurred in Idaho and Utah. Many ranchers in Oregon are aware of the bird's habitat and steer their herds clear of areas where their dwelling is probable.
Yet the federal government has advertised that it is the most effective source for balancing interests – that somehow the sage grouse's viability must be protected at the federal level from cattle-ranching activities (which actually have a positive impact on sage grouse habitat as well through soil regeneration that aids habitat growth, much like the buffalo herds' contribution to the fertility of the Great Plains).
Eastern Oregon, prior to the pioneers, was a large swathe of grassland. With the covered wagons clung the sage seeds that spread their roots across the land. Our ever-changing ecosystem has seen the rise and fall of species across the span of earth's history. Yet our government is attempting to play God and legislate control over a single element to an incomprehensible equation – a futile and wasteful task that does more harm than good, as we saw from the carcasses of buffalo, and see from the slaughter of an owl.